A company's lifetime warranty is only as good as the lifespan of that company. See why Rick's customers have been trusting in our products and services for over 40 years.
RICK'S INSTALLATION OPTIONS
There are even more ways to save on your Rick's project with our Custom Installation Options and Design/Estimating Services.
Materials Packages - DIY
Bring in your measurements, pick your board preferences and let our experts create a full material package for your project. Orders over $1,000 also receive Free Hand-Stacked Delivery.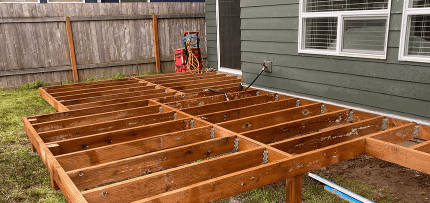 Partial Install
Perfect for the DIY household that doesn't want to do ALL the work, but loves to take on projects when you can. Our team lays out the design, installs all of the posts, and shows you how to finish the installation of the boards, rails, and gates. Add On installation of rails and/or gates and your part will be practically done before you even start!
Full Install
From design and layout to installation, Rick's handles it all for you! Work with your Design Consultant to make sure all the details of your new fence are exactly what you want, and walk through the project with your install team before they start and again at the end. We don't leave until you are 100% happy!
More Ways to Pay
CREDIT CARD
NO PROCESSING FEES
CASH/CHECK
PAY THE OLD FASHIONED WAY

CURRENT PRODUCT SPECIALS
Our Estimation & Decision Specialists can help you create your custom quote. Call or click today for everything from a ballpark price on a future wish list item, to a full on-site Design Consultation.
Port Orford Cedar Deck Boards
Port Orford Cedar Deck Boards available in 2″x6″, in lengths from 4′-20′
Cedar Boards 4′ – ON SALE $3.99 $2.76 Per Foot
Cedar Boards 6′-16′ – ON SALE $3.99 $2.76 Per Foot
Cedar Boards 18′ & 20′ –ON SALE $3.99 $2.76 Per Foot
Armadillo Composite Deck Boards
Available in 5 Natural-Toned Colors
Only $3.99 Per Lineal Foot
Rick's Fence Stain
It's the perfect time to stain your fence!
Rick's Semi-Transparent Fence Stain ON SALE!
$60.99 per Gallon
For the best tips on Staining your Fence visit our Blog Post on the Ultimate Staining Tips
Rick's Deck Stain
SPRING SALE! It's the perfect time of year to stain your Cedar Deck!
Armstrong Semi-Transparent Deck Stain ON SALE! 10% off!
$60.99 per Gallon
For the best tips on Staining your Cedar Deck visit our Blog Post on the Ultimate Staining Tips
6′ Tall Vinyl Material Packages
Material Packages Starting at $29.49 Per Lineal Foot
Pressure Treated Posts
4″x4″x8′ Posts – $14.99 per post
5″x5″x8′ Posts – $31.99 $25.99 per post
Hampton Cedar Boards
Hampton Boards $3.99 Per Board
Available in Dog-Eared for $4.24 Per Board
60 lbs. Pre-Mixed Concrete
Split Rail Fencing
Available as 2 or 3 Rail
Materials Starting at $7.71 Per Lineal Foot
Allegheny Simulated Rock Fencing Packages
Best fencing for Sound, Wind, & Graffiti!
Materials start at $65.84 per foot.
Don't see the product you're interested in on the specials?
Don't worry, Rick's has lots of options and your project might have additional offers or discounts available. Request your Free Estimate, or call/visit your nearest Rick's location to chat with a Design & Sales expert!
Ready to schedule your FREE estimate?